Grade University is a part of Grade Education Centre (UA007) — a platinum Cambridge Assessment English centre, based in Kyiv, Ukraine.
We have been working with all Cambridge Assessment English exams (YL, Key, Preliminary, First, Advanced, Proficiency) as well as with Cambridge teaching qualifications (TKT all modules, CELTA, DELTA all modules) since 2008.
Alongside with Cambridge qualifications, our Teacher Training Centre conducts webinars, workshops, conferences, and other useful activities for teachers.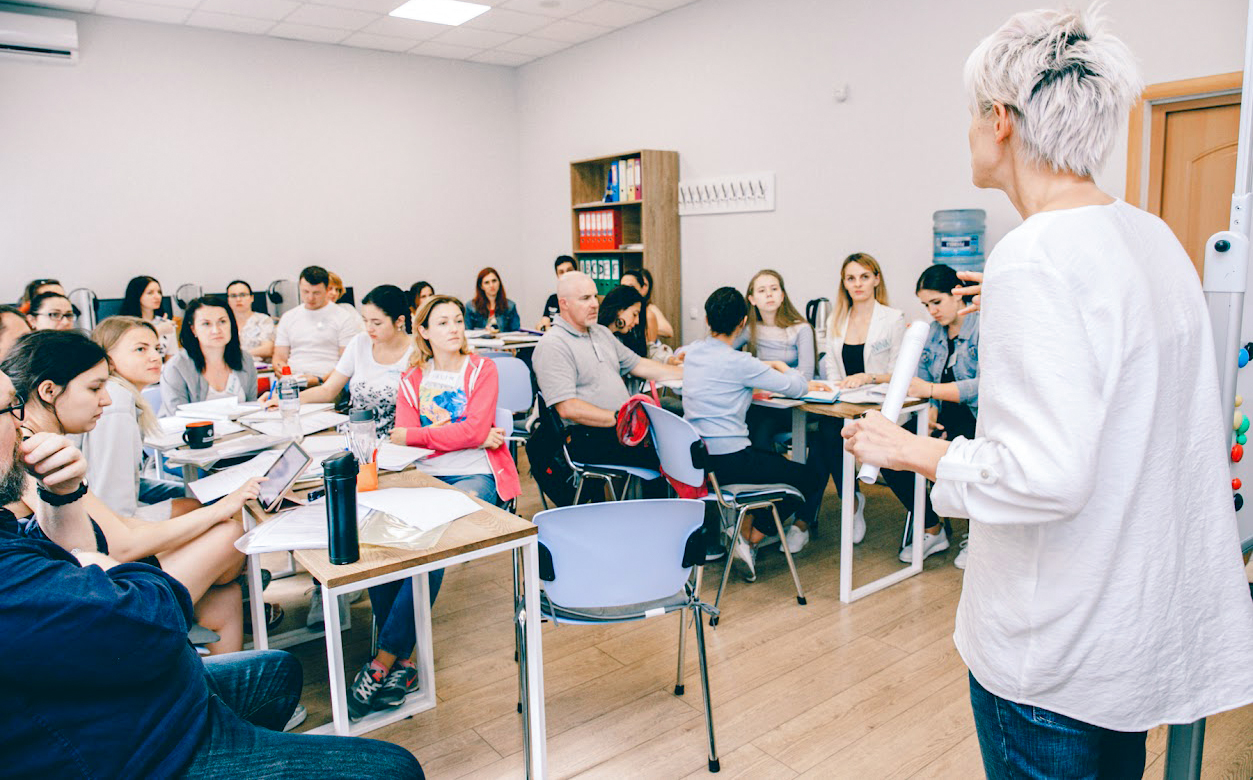 Being in the field of ELT for over 14 years now, we have noticed the need for more opportunities for teachers who seek convenient and up-to-date sources for professional development.
Understanding how fast the world is changing and what difficulties teachers encounter, we thought that the best way to help would be to create…
...an online self-study platform!
In this way, teachers will have access to their courses any day, any time; there is no need to adjust their schedule in order to receive knowledge. So we gathered the best authors we know to create practical and interactive courses for teachers to learn new and advance existing teaching skills.
The values
Expertise
14 years of work and experience in the ELT market of Ukraine
1800+ teachers who have prepared and taken TKT at our exam centre
800+ CELTA graduates
130+ teachers received DELTA certificates with us
advanced training programmes for English teachers from Cambridge Assessment English and approved by the Ministry of Education and Science of Ukraine
Innovations
We have created a safe online environment for teachers that will help build on their teaching knowledge and skills by doing interactive bespoke online courses, watching and participating in webinars and workshops from experienced Ukrainian and world-known ELT professionals.
Our digital platform allows you to learn at your own pace on desktop, mobile or tablet.
Access our courses, webinars & workshops from any corner of the world.
Licences
We have been working only in accordance with international teaching and teacher training standards since 2008 when we became partners with Cambridge Assessment English.
Our courses and programmes are approved by the Ministry of Education and Science of Ukraine.
Quality
100% of our course authors and course tutors hold international teaching qualifications such as CELT-P, CELT-S, IHCYLT, TYLEC, TKT, CELTA, DELTA, TESOL.
All our courses include final assessment based on which we issue a certificate of attendance or a certificate of completion.
Experience and traditions
Together with new approaches and methods, our courses embrace established teaching practices and methods. Those approaches have proved to be sufficiently flexible to make them appropriate for innovative educational thinking and the high-quality development of teaching and learning.
Practicality
All our courses provide teachers with hands-on experience.
Our courses are designed to help you specialise your skills.
The training is interactive, and the task types can be adapted for actual use in the classroom.
All activities, recommendations, and strategies have been tested by our course authors and tutors in their classrooms, and they can be embedded into your personal style of teaching.
The team
Meet people who have been working hard to create this platform and continue doing so by improving and developing it. Only having all these people working together, achieving the goal of creating this project, has made Grade University such a unique and trustworthy platform.
Course Authors & Tutors
Andrii Pigariev
DOS, CELTA, CELT-P/S Course trainer, International speaking examiner, Conference speaker
Lidia Simak
YL DOS, CELTA, CELT-P/S Course trainer, TKT Course creator
Yulia Chorna
DELTA Module 1, CELTA certified teacher of General & Business English
Iryna Avalishvili
DELTA Module 2, CELTA, CELT-S certified teacher of General, Business & Legal English
Chris Reese
DELTA Module 1, CELTA, CELT-P/S Course trainer, International speaking examiner
Marketing Department
Anastasiia Polushyna
CMO
Viktoriia Savytska
Social Media Specialist
Kateryna Pashchenko
Chief Editor
Viktoriia Tsalpinska
Email Marketing Specialist
Yevheniy Zhuk
Videographer
IT Department
Vitalii Kivgila
Tech Lead
Maryna Zinchenko
Front-End Developer
Andrii Illin
Back-End Developer
Yuliia Ponidielnik
Lead UX
Oleksandr Omelchenko
UI/UX Designer
Managing team
Oleksii Zinchenko
Сo-Founder, CEO
Maryna Gordiienko
Сo-Founder, COO
Andrii Hulias
CPO
Yulia Chorna
Project Manager
Contact us
Any questions left? Need help using our online platform? Just contact us any time.
support@grade.university
partnership@grade.university
Provost & East Buiding, 145 City Rd, London EC1V 1AW
+44 808 196 5707
Join our community
Connect with like-minded teachers, exchange your advice, support and ideas, join our "global staffroom", learn and discuss the latest news and trends in the ELT world.
Follow us on Instagram