5 Short Stories You Can Base Your Lessons On
5 Short Stories You Can Base Your Lessons On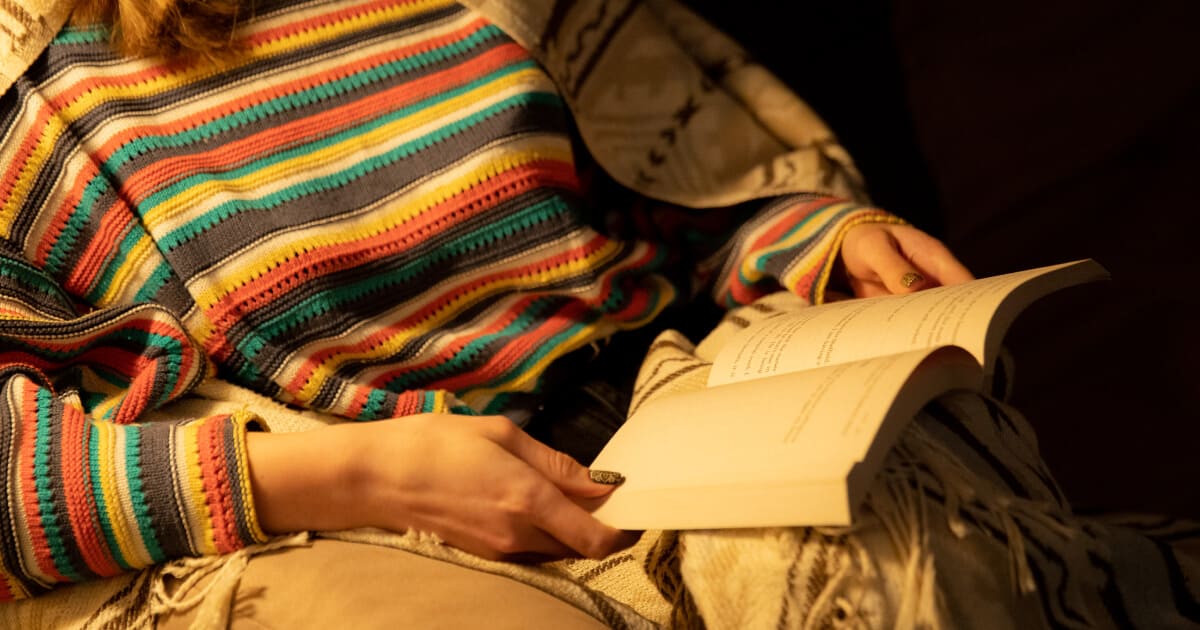 Reading is an extremely important skill to develop especially if you feel like you are stuck at the same level. The benefits of reading are countless: you see how different grammar structures function in real texts, you come across new words and phrases, you learn more about English literature, and simply spend your free time with joy and use. There are too many pros not to try organizing a little book club with your students. And as usual, the first question is what should I start from.
There are a lot of different adaptations for beginners. However, what can your students start from if they reach the Intermediate level and are ready to start exploring original texts? Today we will discuss five short stories which may help you to create a useful and engaging lesson.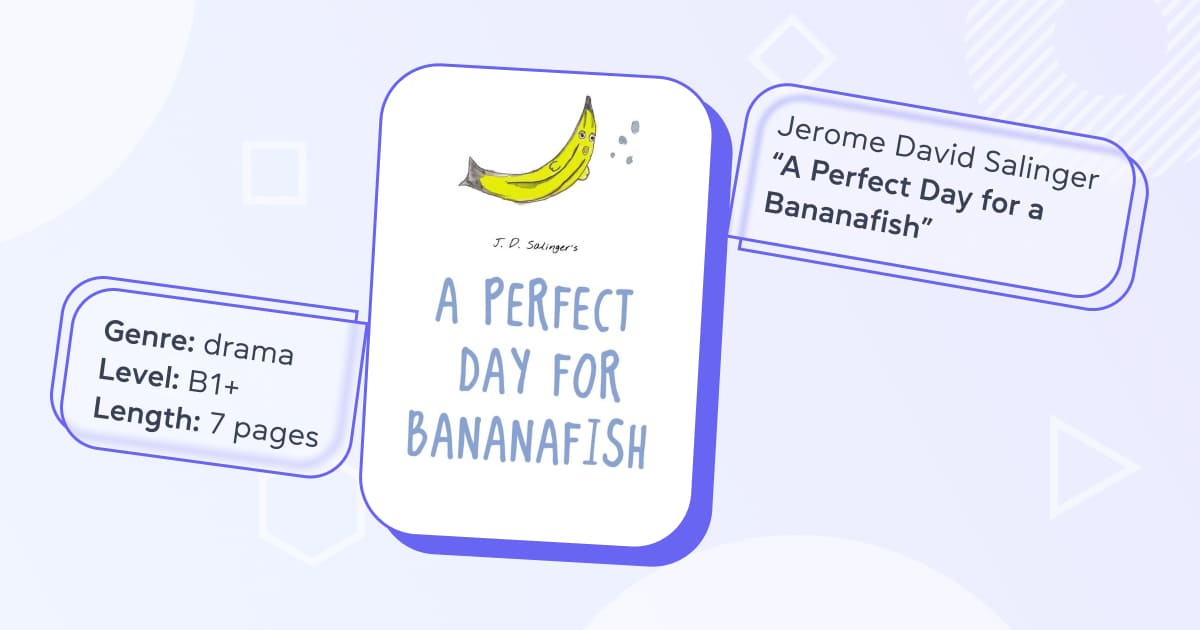 Jerome David Salinger. A Perfect Day for a Bananafish
Genre: drama
Level: B1+
Length: 7 pages
Yes, the author of the famous "Catcher in the Rye" has a lot of other extremely interesting stories, and one of them is "A Perfect Day for a Bananafish", a story about a young man who returns from the War and tries to fit in the normal life. It is a touching and sad story that can't leave you indifferent.
This story shows how easily one can create an outstanding and complex plot using pretty simple language and grammar. Moreover, it is also perfect when it comes to basic punctuation rules because almost the whole action is based on dialogue.
It may be a good choice for discussion or debating club too because the story touches on such important and actual topics as war, healing, support, and understanding.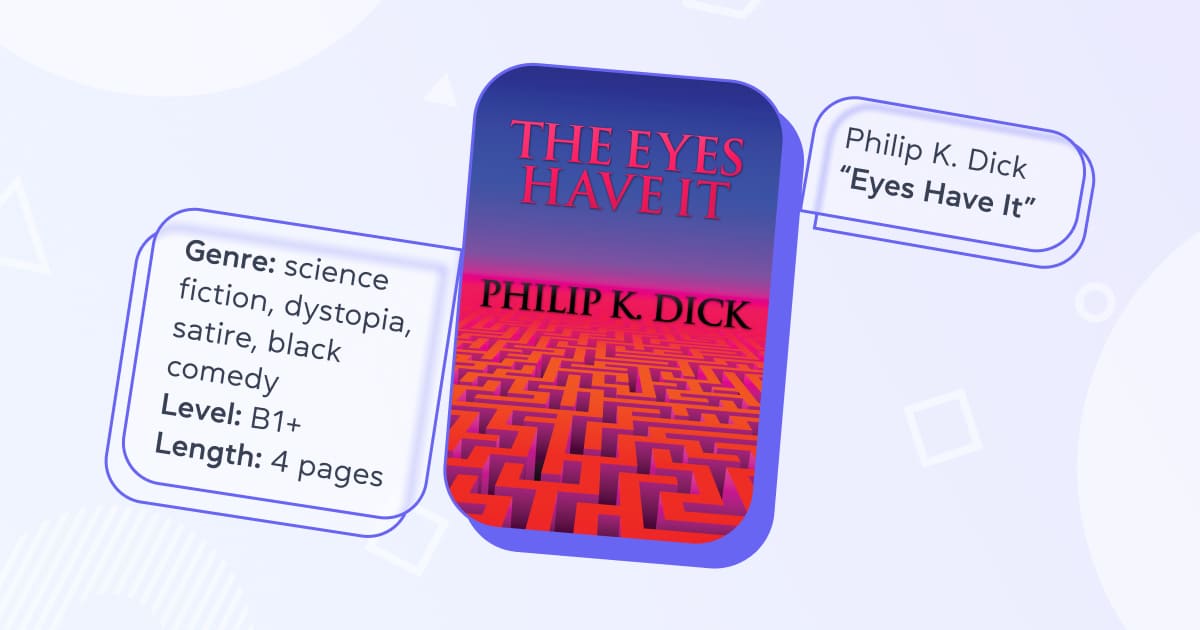 Philip K. Dick. Eyes Have It
Genre: science fiction, dystopia, satire, black comedy
Level: B1+
Length: 4 pages
"Eyes Have It" would be interesting not only for sci-fi fans but also for every English learner.
This story is compulsory if you want to dedicate your lesson to learning fixed phrases and idioms and explain what happens if you understand them too literally. The story shows us a man who builds a great conspiracy theory around the novel he reads. His whole conspiracy theory is based on the fact that he doesn't understand metaphors and sees only the basic meaning of all the idioms that he recognizes in the text.
Apart from being very useful in terms of learning a language, the story is also very fun to read and there is plenty of space for further discussion and interpretation which sometimes becomes as engaging as the story itself.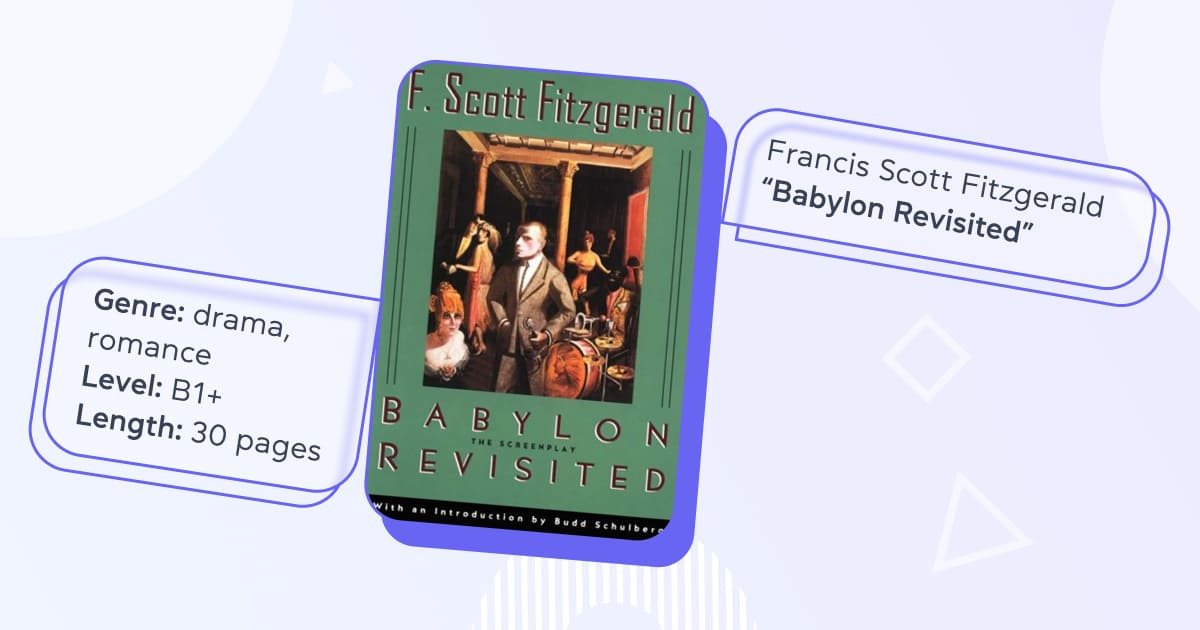 Francis Scott Fitzgerald. Babylon Revisited
Genre: drama, romance
Level: B1+
Length: 30 pages
"Babylon Revisited" is a short story by Francis Scott Fitzgerald, the author of "Great Gatsby". In this story we see the glamorous life depicted in his most famous book from a new and unexpected perspective. So, you can organize a pretty interesting debate based on the book or movie about Gatsby and this story. "Babylon Revisited" is not a short story but it is extremely interesting so it doesn't feel like a burden.
Fitzgerald is also known for his simple but still elegant and impressive style, so it is a great choice if you want to show your students a truly exquisite piece of literature.
Moreover, the text is rich in terms of interesting vocabulary, especially adjectives, so don't skip it if you are working on describing
places,
objects,
people,
or feelings.
Finally, the plot is intriguing and has an open end, which is why you are likely to have a lively discussion with your students after the reading.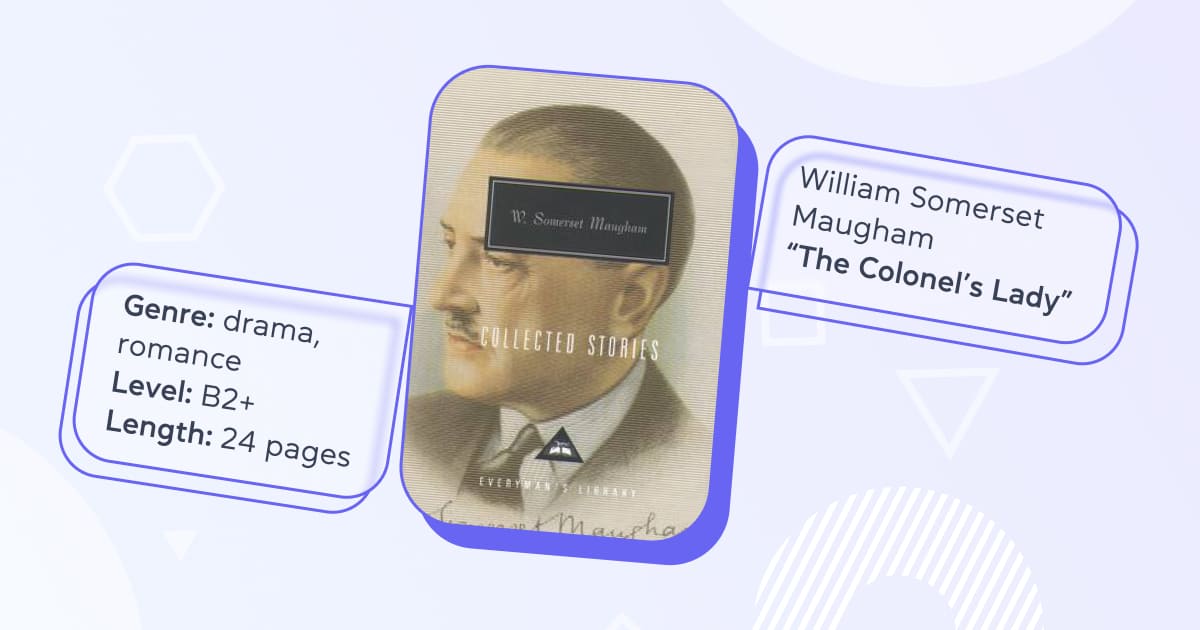 William Somerset Maugham. The Colonel's Lady
Genre: drama, romance
Level: B2+
Length: 24 pages
Maugham proved himself to be one of the most talented authors of the XX century. "The Colonel's Lady" is one of his many stories which surely deserves attention and admiration. The story gives both an unforgettable reading experience and a clear idea of extraordinarily balanced storytelling. It is also perfect while discussing past tenses or writing stories as some passages here can be used as a great example for both cases.
Maugham also introduces a deep feminist context, so if you want to discuss the topic of stereotypes or gender issues, "The Colonel's Lady" is a perfect choice.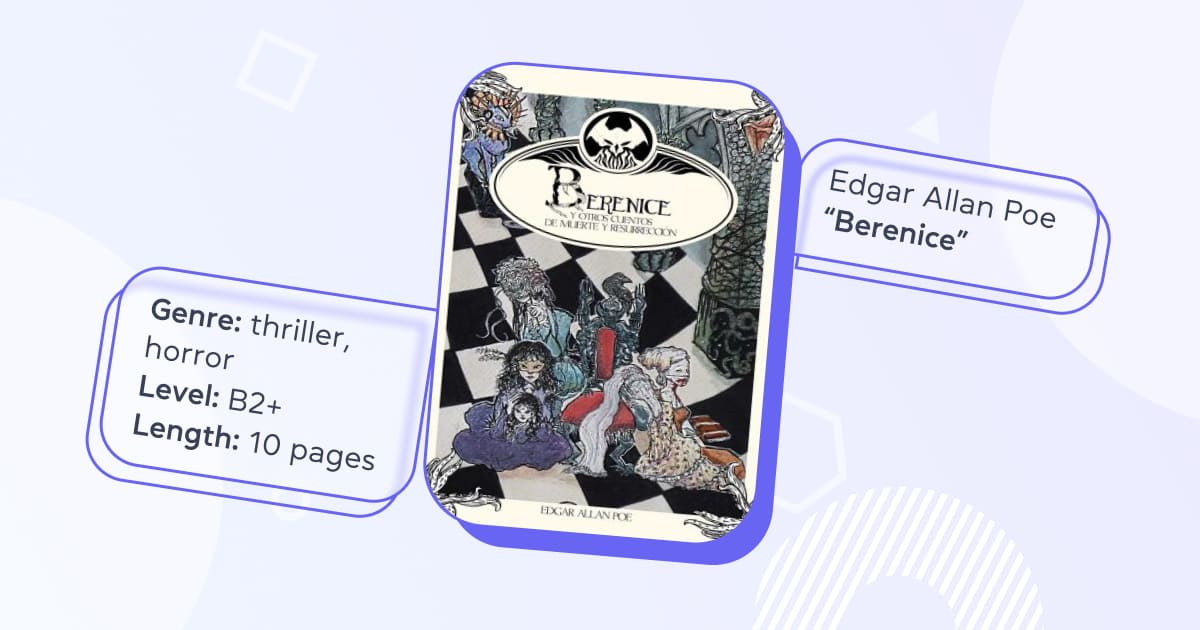 Edgar Allan Poe. Berenice
Genre: thriller, horror
Level: B2+
Length: 10 pages
Finally, we are ready to present a true gem of this list — "Berenice" by Edgar Allan Poe. Reading this breathtaking thriller story is a perfect activity for students of high levels who find all the text too easy and haven't been facing anything too challenging for some time. Edgar Poe gives us a taste of truly impressive writing style and almost unbearable richness of vocabulary.
So, even if your students are not very interested in horror stories, you can use the text for endless discussions on the peculiarities of the meaning of some exact words or phrases.
It will also be a perfect match if you intend to speak about mental issues, or want to deep into debating on good and evil, love and hate, guilt and innocence.
Boost your ELT performance with independent learning
To sum up, there are plenty of ways how you can use these or any other short stories that you like. The use varies from presenting some vocabulary and grammar to challenging your students with controversial questions and thoughts. We believe that reading is a pretty unique and smart way to conduct the lesson, so why don't you give it a try?
Why reading can be beneficial for English learners?
The main advantage of the text by Philip K. Dick is…
You should definitely read Edgar Allan Poe if…
"The Colonel's Lady" is a great choice if you want to speak about…